Operational Updates
Click HERE for the most updated hours, customer guidelines and updates to store policy.
Honk If You Love Real Men: Four Tales of Erotic Romance (Paperback)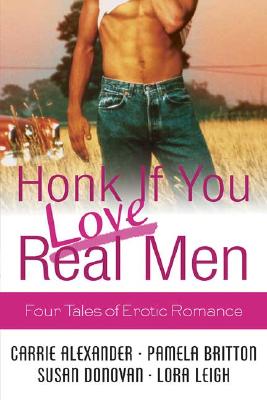 Description
---
"Wanted: Real Men. Must be irresistible, good with his hands, and know how to handle any situation. . .in or out of the bedroom."
" "
"Honk If You Love Real Men "is a contemporary erotic anthology featuring some of the brightest up and coming names in contemporary romance and erotic romance.
"Naughty Girl" by Carrie Alexander: When a sexy, sassy woman driving in her convertible catches the eye of a gorgeous construction worker, they indulge in a delicious afternoon tryst.
"WANTED: One Hot Blooded Man" by Pamela Britton: A sexy firefighter is responsible for lighting more fires than putting them out
"Reno's Chance" by Lora Leigh: Ever since she was a little girl, Raven McIntire has secretly pined and longed for her best friend's sexy older brother, Reno, a Navy SEAL who has just returned home from duty. What she doesn't realize is that his only true mission is to get into her heart and get her into his bed.
"Mercy Me" by Susan Donovan: A heated encounter with an irresistibly handsome doctor.
About the Author
---
CARRIE ALEXANDER is the award-winning author of many romance novels, including Hidden Gems and My Front Page Scandal.PAMELA BRITTON is the award-winning author of On the Move, Playboy Prankster and Total Control.New York Times bestseller SUSAN DONOVAN is a former newspaper journalist with degrees from Northwestern University's Medill School of Journalism and has worked as a reporter in Chicago, Albuquerque, and Indianapolis. She lives in rural Maryland with her family and dogs. LORA LEIGH is the author of Live Wire, Forbidden Pleasure, and Enigma, among many others. Writing is her passion, her peace, and her lifeline, and she can often be found daydreaming and plotting and planning with the varied characters that fill her imagination. When she isn't writing, she tends her flower gardens, watches horses romp outside her home, or spends time with the family and pets she fills her life with. She lives in the rolling hills of Kentucky.