Operational Updates
Click HERE for the most updated hours, customer guidelines and updates to store policy.
Hex Appeal (Paperback)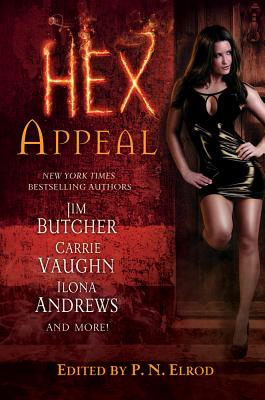 $20.99
Usually Ships in 1-5 Days
Description
---
Fall under the intoxicating spell of their hex appeal…
In the magical world that lies hidden beneath our own, witches and conjurers play deadly games. They know just the right spell to kill a man with one kiss—or raise him back again. And they're not afraid to exact sweet revenge on those who dare to cross them. But what if you're the unlucky soul who falls victim to a conjurer's curse? And if you had the power to cast a magic spell of your own, would you use it?
In this bewitching collection, nine of today's hottest paranormal authors tell all-new, otherworldly tales. Spellbinding stories featuring bigfoot, albino vampires, professional wizards, resurrected boyfriends and even a sex droid from the twenty- third century named Silicon Lily. But as our conjurers are about to discover, it's all fun and games until someone gets hexed. And sometimes, even the best spun spells can lead to complete and utter mayhem.
Includes Stories From:
Ilona Andrews
Jim Butcher
Rachel Caine
Carole Nelson Douglas
P. N. Elrod
Simon R. Green
Lori Handeland
Erica Hayes
Carrier Vaughn
About the Author
---
P.N. Elrod is the editor of Dark and Stormy Knights, Strange Brew, My Big Fat Supernatural Honeymoon and My Big Fat Supernatural Wedding, which won the 2006 Pearl Award for best anthology. She is the author of many novels, including the Vampire Files Series, as well as numerous short stories. In 2010, she was nominated for a Romantic Times Career Achievement Award for urban fantasy, and she is the winner of the Pioneer Achievement Award. Elrod loves meeting readers at science-fiction conventions all over the country. She has two dogs—Sasha and Megan—and an incurable addiction to chocolate. She lives somewhere on another planet, but maintains a convenient citizenship in the state of Texas for tax purposes.
Praise For…
---
"Heavy hitters serve up sharp, dark, witty urban fantasy.... Fans of Elrod's Strange Brew, which included many of the same authors, will find plenty more to enjoy in this strong anthology." —Publishers Weekly
"Elrod has a real gift for gathering great authors and terrific stories for the anthologies she edits. That is certainly true of Hex Appeal, which boasts a stellar cast of nine storytellers providing their take on menacing magic and hazardous hexes!" —RT Book Reviews
"A solid collection for lovers of urban fantasy and wizards in the modern world." —Library Journal