Operational Updates
Click HERE for the most updated hours, customer guidelines and updates to store policy.
Sword-Bound: A Novel of Tiger and del (Hardcover)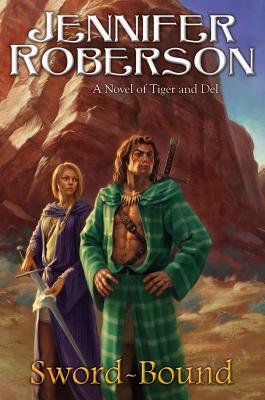 Description
---
For the first time in years, life seems settled for Tiger and Del. They run a school for sword-dancers in the South. They're raising a two-year-old daughter. They collect income from their interest in a thriving cantina. Occasionally Tiger must dance against sword-dancers bent on killing him for forsaking the oaths and vows of the circle, but for the most part it's an idyllic life. Until Tiger's twenty-five-year-old son accuses him of being "domesticated."
Thus challenged by his own flesh-and-blood to reclaim his legendary status, Tiger, accompanied by Del and his son, embarks on a journey northwards that will test his sword skill and resolve, and lead him and Del into danger from an old enemy. Though Tiger had forsaken his magic years before, he now faces the choice to reclaim it, and to wield it, in order to save those he loves.
About the Author
---
Jennifer Roberson is the author of the "Sword-Dancer Saga" and the "Chronicles of the Cheysuli," and collaborated with Melanie Rawn and Kate Elliott on the historical fantasy "The Golden Key," a finalist for the World Fantasy Award. She has also published three historical novels, and several in other genres. An exhibitor and breeder of Cardigan Welsh Corgis, she lives on acreage in Northern Arizona with eight dogs and two cats. She is currently working on the third "Karavans" novel, with prologue available at her website, http: //www.cheysuli.com/author/Index.html.
Praise For…
---
"Surprise-filled... such a satisfyingly human series. Sensitive readers of both sexes should appreciate how Roberson rises above the usual genre cliches."
-Publishers Weekly

"Exciting sword-play, elegant prose, and detailed relationships make this latest sword and sorcery fantasy a must-read. This book stands alone, but the entire Sword-Dancer series is a treat."
-Romantic Times

"It's not just Ms. Roberson's fertile imagination that makes her books so special. It's also wonderful characterization and a marvelous sense of timing that keeps her readers right on the edge of their seats."
-Rave Reviews

"Roberson doesn't take the easy way out...she has the courage and the writing ability to let her characters be true to themselves, and the result is a taut and breathless novel."
-American Fantasy

"Review enough books and you start to run out of superlatives, and I wish I could make a new one up to describe this particular fantasy adventure.... Go out and buy this book. Buy a copy for a friend."
-Science Fiction Chronicle