Operational Updates
Click HERE for the most updated hours, customer guidelines and updates to store policy.
A Hot Man Is the Best Revenge: Ellora's Cave (Paperback)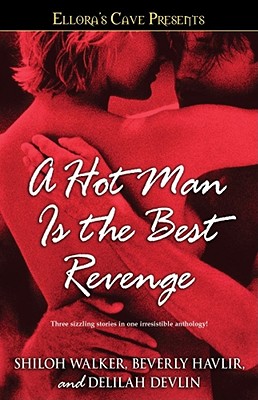 Description
---

Three erotic stories about women who discover that time might not heal all wounds, but mind-blowing sex can help....

Shiloh Walker
Good Girls Don't

After girl-next-door Lori dumps her controlling fiancé, she runs into her hard-bodied best friend, Mike, at a sex club and unveils a kinky secret that he never suspected.

Beverly Havlir
Irresistible

Unexpectedly snowed in together at the cabin they used to share, feisty Madison and her smoking-hot ex discover that some naughty bedroom play just might heal their broken hearts.

Delilah Devlin
Ride a Cowboy

Hardened by a miserable marriage, Katelyn barely trusts the sexy young cowboy who offers to help fix up her new country home -- until he uses his strong, skillful hands to make her body tremble with pleasure.
About the Author
---
Beverly Havlir, a lifelong reader of romance, realized that traditional romance books lacked the spice to make them truly exciting reads. So, putting her fingers to the keyboard, she set about writing Romantica. Now she's completely hooked. Juggling writing with a husband and two active kids, Beverly always finds the time to bring her characters to life. A vivid imagination helps, as well as being a true romantic at heart. Her characters inhabit her head and talk to her and she is more than happy to let them take her where they lead.

Shiloh Walker, the author of over 30 stories for Ellora's Cave, began writing when she was 12. Married since she was 19 to her highschool sweetheart, she lives int he midwest with her husband and their two children.

Delilah Devlin dated a Samoan, a Venezuelan, a Turk, a Cuban, and was engaged to a Greek before marrying her Irishman. She's lived in Saudi Arabia, Germany, and Ireland, but calls Texas home for now. Ever a risk taker, she lived in the Saudi Peninsula during the Gulf War, thwarted an attempted abduction by white slave traders, and survived her children's juvenile delinquency. Creating alter egos for herself in the pages of her books enables her to live new adventures. Since discovering the sinful pleasure of erotica, she writes to satisfy her need for variety--it keeps her from running away with the Indian working in the cubicle beside her!