Operational Updates
Click HERE for the most updated hours, customer guidelines and updates to store policy.
Best Erotic Romance 2013 (Paperback)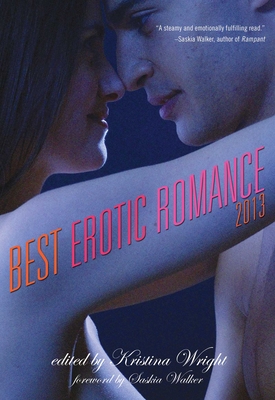 Description
---
So what happens with love meets sex? Erotic love is that delicious blend of hearts and minds and bodies, a combination of sweet and dirty, romantic and sexy. Sex by itself--hot, steamy, sensual sex--is one of the best things this life has to offer. But then, so is love. First love, new love, renewed love; love that has stood the test of time, love that has conquered every obstacles. It doesn't matter if it's a new relationship, such as Jeanette Grey's yogo-bound characters in "Teach Me," or a long-term relationship like Dominic Santi's happily (and lusty) married couple in "Kiss of Peace"-- the combination of sex and love is incendiary. The collection is split between familiar authors and authors new to the genre. Best-selling author Kate Pearce delivers a scorching hot fantasy that takes place in a department store dressing room in "The Price of Love." Teresa Noelle Roberts has a sweetly erotic story about parents waiting for their adopted son in "Waiting for Ilya" and Geneva King's "Last Hundred Days" recounts the last hundred days between a divorcing couple.
About the Author
---
Kristina Wright (kristinawright.com) is the editor of over a dozen published and forthcoming Cleis Press anthologies, including the best-selling Fairy Tale Lust: Erotic Fantasies for Women. Other titles include: Dream Lover: Paranormal Tales of Erotic Romance; Steamlust: Steampunk Erotic Romance; Lustfully Ever After: Fairy Tale Erotic Romance; Duty and Desire: Military Erotic Romance; xoxo: Sweet and Sexy Romance, and the Best Erotic Romance series. She is also the author/editor of the cross-genre Bedded Bliss: A Couple's Guide to Lust Ever After for Cleis Press. Her fiction has been published in over one hundred anthologies and her nonfiction has appeared in numerous publications, both print and online. She holds degrees in English and humanities and has taught composition and world mythology at the college level. Originally from South Florida, Kristina is living happily ever after in Virginia with her husband, Jay, and their two little boys.
Praise For…
---
"Editor Kristina Wright brings together a group of excellent writers to provide stories exploring the connection between love and sex. What happens when physical expression and pleasure come along with romantic love?"--Angel R. Rivera
"Readers of romance won't find their familiar genre conventions in these 17 stories, which fall much more on the romantic erotica end of the spectrum. There's plenty of sexy fun." --Publishers Weekly
Best Erotic Romance 2013 is a collection of short romance, sampling some of the best short romance with strong erotic romance from the newest writers of 2013. Touching on the deep romance and the deep feelings it can bring to the more visceral expression of love, Best Erotic Romance 2013 is a strong addition to short fiction and romance collections, recommended." --Midwest Book Review
"Are you looking for some quick, sexy and fast paced stories to enjoy? BEST EROTIC ROMANCE 2013 has just that. These stories are all about love and sex, from a happily married couple to a fantasy happening in a department store dressing room. This book gives readers many different scenarios to choose from. While they do center on sex, these stories give the reader a glimpse at real life as well. Schedules and obstacles need to be overcome. Life and work happen and the characters in these stories must work around it all. Pick up BEST EROTIC ROMANCE 2013 and have some fun!" -Fresh Fiction
"Erotic Romance, how do I love thee? Let me count the ways… Here in this collection you have sixteen ways. Read the stories by writers who perfectly understand the intersection of the physical and the emotional. A steamy and emotionally fulfilling read...these writers take us right into the heart of a relationship. Savor and enjoy." -from the foreword by Saskia Walker
— Reviews