Operational Updates
Click HERE for the most updated hours, customer guidelines and updates to store policy.
12 Days at Bleakly Manor: Book 1 in Once Upon a Dickens Christmas (Paperback)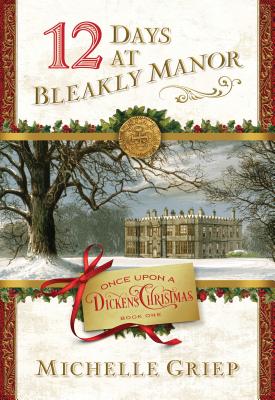 Description
---
". . .a setting and plot that would make Agatha Christie herself sit up and take notice."
—RT Book Reviews

Christy Award Winner!

A mysterious invitation to spend Christmas at an English manor home may bring danger...and love?

England, 1851: When Clara Chapman receives an intriguing invitation to spend Christmas at an English manor home, she is hesitant yet feels compelled to attend—for if she remains the duration of the twelve-day celebration, she is promised a sum of five hundred pounds.

But is she walking into danger? It appears so, especially when she comes face to face with one of the other guests—her former fiancé, Benjamin Lane.

Imprisoned unjustly, Ben wants revenge on whoever stole his honor. When he's given the chance to gain his freedom, he jumps at it—and is faced with the anger of the woman he stood up at the altar. Brought together under mysterious circumstances, Clara and Ben discover that what they've been striving for isn't what ultimately matters.

What matters most is what Christmas is all about . . . love.

Pour a cup of tea and settle in for Book 1 of the Once Upon a Dickens Christmas series--a page-turning Victorian-era holiday tale--by Michelle Griep, a reader and critic favorite.
About the Author
---
Michelle Griep's been writing since she first discovered blank wall space and Crayolas. She is the author of historical romances:
A Tale of Two Hearts,The Captured Bride,The Innkeeper's Daughter, 12 Days at Bleakly Manor, The Captive Heart, Brentwood's Ward, A Heart Deceived,
and
Gallimore,
but also leaped the historical fence into the realm of contemporary with the zany romantic mystery
Out of the Frying Pan
. If you'd like to keep up with her escapades, find her at
www.michellegriep.com
or stalk her on
Facebook
,
Twitter
, and
Pinterest
.  
And guess what? She loves to hear from readers! Feel free to drop her a note at
michellegriep@gmail.com
.  
Praise For…
---
"A Victorian treasure filled with atmospheric mystery, humor, romance, unexpected twists, and quirky characters that would make Charles Dickens proud. Michelle Griep has penned a winner!"
—Julie Klassen, bestselling, award-winning author

"Hands down, the most fun I've had reading a book in a long time! With a plot reminiscent of a mystery dinner theater, the author gathers a cast of characters you will not soon forget into an English manor where murder, mayhem, and mystery ensue. Add in a speck of romance and a sprinkle of humor, and you have a masterpiece of literary entertainment."
 —MaryLu Tyndall, award-winner author of the Legacy of the King's Pirates series

"Fans of Victorian Era romance will swoon over 12 Days at Bleakly Manor: Book 1 in Once Upon a Dickens Christmas by Michelle Griep. Her characters are mesmerizing, her writing flawless—a winning combination!"
—Elizabeth Ludwig, author of A Tempting Taste of Mystery
With an intriguing nod to Dickens' Bleak House, plus a setting and plot that would make Agatha Christie herself sit up and take notice, Griep's latest will be a hit with fans of Victorian mysteries. In this reverse-of-sorts And Then There Were None, the eccentric characters are layered with slowly revealed stories designed to keep readers' minds whirling with the possibilities. A thread of romance runs throughout the story, accentuating but never overwhelming the plot. Best of all, perhaps, is the setting, which wraps readers in cozy warmth and simultaneously sends chills down their spines.
— Carrie Townsend
During the cold months, I love curling up with a hot cup of tea and a captivating read as the snow swirls around outside my window, so when I came across this historical mystery set around Christmastime, I just knew it would be the right pick to cozy up with. This mystery was the perfect reminder to appreciate the ones you love, especially around the holidays.
— Shay Trotter
Michelle Griep writes a heartwarming holiday tale with all the trimmings. The huge Manor house is filled with secrets and a quirky cast of characters with silly names: Mr. Minnow, Mrs. Scurry, (who carries a box filled with tiny white mice); Mr, Pocket, a detective who is promised a higher rank: Mr. Tallgrass, (pushed everywhere in a wheelchair by a young girl): and Mademoiselle Pretents who keeps secrets and claims her jewelry is stolen while at the Manor. All of them filled with idiosyncrasies, all given a promise. Who will stay and get the prize? Who is the mysterious host? Will you be able to solve this Victorian Christmas mystery? A quick, fun read for the holidays. You will enjoy. I did. Merry, Merry!
— Patricia Pascale